It was more than 30 years ago that Dr Amani Flood first heard the words: 'You have cancer'.
Being diagnosed with Non-Hodgkins Lymphoma, a form of blood cancer, came as a complete shock to Dr Flood. However, she was determined not to take the news lying down.
Instead she got to work - adding more fruits and vegetables to her already vegetarian diet, as well as taking herbal products and other nutritional supplements to boost her health.
Miraculously, after 60 days her cancer went into remission.
"It was really rapid and I was very fortunate and blessed," she said of her recovery. "That experience showed me the healing power of nature and just what the body can do when given the proper supportive environment."
Although she admits not everyone with cancer has as great an outcome, she has met others, who like her saw excellent results managing their cancer through natural means.
"The best outcomes that I've seen, including my own, come from those who work closely with an oncologist," Dr Flood explained. "In my case, the oncologist helped me to stay on track to make sure the natural practices I was using were actually helping me. That advice allowed me the opportunity to make a decision at every turn as to which path I should take."
Dr Flood admits she had already made up her mind that if her natural treatments weren't helping her heal, she would try other methods including conventional medicine. "In the end, the goal is always to survive," she said.
After her health scare in 1997, Dr Flood admits she embarked on a personal journey of self discovery, which included many dietary and lifestyle changes. This led her to studying at Southwest College of Naturopathic Medicine in Tempe, Arizona, which is a fully accredited naturopathic medical school, and becoming a Naturopathic Doctor.
Speaking in honour of October's Breast Cancer Awareness Month, Dr Flood encouraged women not to be afraid immediately after getting a cancer diagnosis.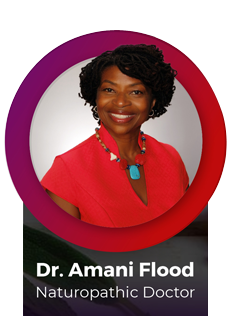 She said: "There has been a lot of progress in the survivorship of breast cancer patients so you don't have to be scared. The best advice I can give anyone is don't ignore any changes in your breasts. Whether you detect a lump, an unusual wound or any changes in your nipples, get it checked out. Make sure you have your breast exams with your doctor scheduled and perform the self breast exam regularly as well.
"Get to know the typography, shape and size of your own breasts, then you will be one of the first to notice if something is out of place."